Slate Arch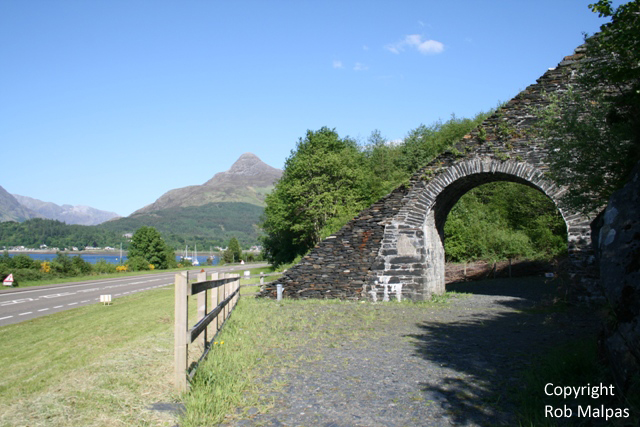 A very noticeable feature of Ballachulish, even to those who just whizz past on the A82, is the Slate Arch that stands at the eastern end of the village. Originally there were two arches here, carrying tramways or inclined planes across the old road from the upper levels of the quarry to the shore. These tramways carried wagons containing slates down to the shore where they were trimmed and loaded into boats to carry them south to Glasgow or further afield.
The arch has been dated to 1822, although whether this was the date of the surviving arch or the now demolished structure is unclear. The other arch stood close by and was much larger, the road passing under something more akin to a tunnel. Unfortunately this arch, along with the house of Glacantobair, was demolished in the 1970s to make way for the new road.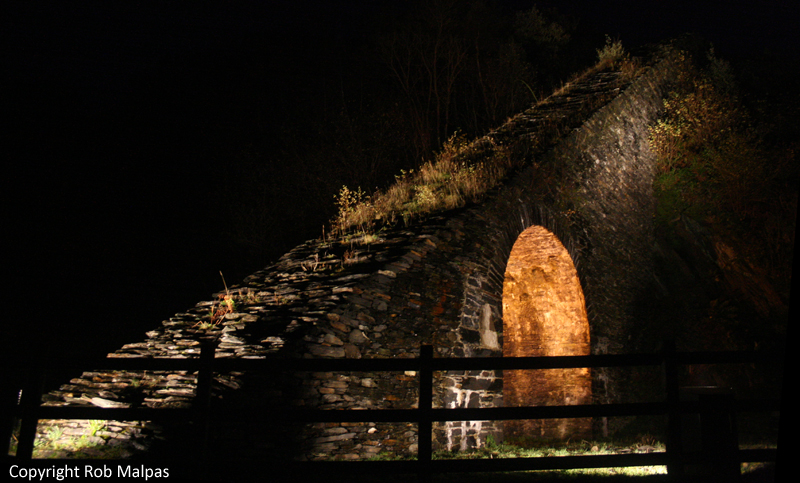 A pleasant path leads from the quarry gate around the corner to the arch, which has an information panel, and is lit up at night.
 2015 Arch Restoration Project
Archworks
The Archworks are being managed by Headland Archaeology Ltd, who have a team of consultants including an architect, engineer and quantity surveyor.
They are currently in dialogue with Historic Scotland and are developing up their proposals. Once agreed, the construction works will be competitively tendered, and works are likely to proceed on site during early to mid summer.
The Archworks contract will be advertised through the Public Contracts Scotland website  (possibly towards the end of March/ early April), and the applicants will be evaluated for their suitability in order to put together a suitable tender list.
Pathworks
The pathworks will be split into two contracts. The first will be for the bitmac/ tarmac cycle path and repair to vehicular site entrance. The second will be the upgrade of the bound gravel loop path within the quarry itself.
We are currently preparing the documentation for the bitmac/tarmac works, which will ask 3-4 suitable and relatively local contractors to quote. It is hoped that the works can be carried out on site in April.
The bound gravel pathworks are likely to be carried out using the council's Pathworks Framework Contract, and may be implemented nearer the summer.