Ballachulish Ferry
For centuries ferry boats plied back and forth across the waters of Loch Leven and Loch Linnhe. The two best known crossings are the Ballachulish Narrows across Loch Leven and the Corran Narrows across Loch Linnhe, both of which are still in use by traffic, albeit the former is replaced by the Ballachulish Bridge (more on that later). However, there were also other crossing points, across Loch Leven from Invercoe to Callert and further east at Caolas na Con and across Loch Linnhe between Ardsheal at Kentallen and Inversanda on Ardgour.
The ferry at the Ballachulish Narrows first carried cars in the early years of the 20th Century, at the time they were driven onto planks laid across large rowing boats, and then rowed across one at a time, straddling the boat. Of course, it was not until around 1927, or perhaps later that the current road around Loch Leven through Kinlochleven was completed, so in the earliest years of motoring the only alternative was the military road over the Devils Staircase and through the Lairig Mhor.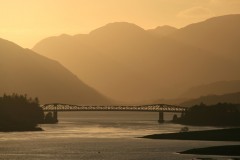 As the vehicle traffic on the ferry increased, so the standards of the boats improved, and by the 1960s the crossing was run by 3 turntable ferries, each capable of carrying 6 cars. These operated as roll-on, roll-off ferries, with a single ramp and without the need for reversing. The turntable did, however, need to be loaded fairly evenly to ensure that it turned smoothly.
All this came to an end, however, in 1975 when the Ballachulish Bridge opened.
Ballachulish Bridge
The Ballachulish Bridge started construction in either late 1972 or early 1973 after a couple of years of planning and design work. It was almost finished for the summer of 1975, but a couple of minor problems seem to mean that it did not open until the very end of the year.
This means that 2015 marked the 40th Anniversary of the opening of the Bridge, and so the communities of South Lochaber held an exhibition in the village to mark this and other local anniversaries.