Shinty Club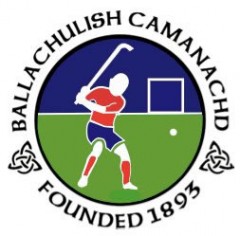 Shinty is a popular local sport and the narrows is the traditional boundary of the North/South divide in shinty, with teams north of narrows playing in the North district's competitions and those South playing in their respective competitions. Ballachulish Camanachd Club play in the South Leagues. However, Ballachulish is still considerably far North in relation to most of Scotland. The Club has won the Camanachd Cup four times. 2013 has proven to be a very succesfull year for the team.
Committee Members 2013
Iain Brown – Chairman, Willie MacDonald – President, Shirley Grant – Secretary, Ganes Dunlop – Treasurer, Craig Munro – 1st Team Manager, Philip MacLean – Youth Manager, David Campbell, Malcolm Grant, David MacPhee, Iain MacMillan, James MacDonald, Peter Carrick, Donald Wilson.
Chairmans Introduction….. by Iain Brown
In this website you'll find a general club update, fixtures for the coming season and all the relevant contacts for the club.
At the moment we are entering probably one of the more exciting periods for the club and are looking forward to playing success and rising back up the leagues again pretty sharpish.
You will see from the manager's notes a good number of players have returned to the club giving us a very strong squad for the coming season, it is our intention to play several challenge matches thorough out the season, on Friday evenings & Saturday mornings to ensure those not getting match time on a regular basis plenty experience for next season.
The fixture list for the coming season is included here, so please come along and support your local team, it's a good social afternoon, especially when we win. Additionally the club is always looking for assistance, sponsorship, volunteers, so if you feel you want to get involved and have skills that would benefit the club, please get in touch with one of the office bearers, all details are on the contacts list included.
It's our intension to provide a mid-season update and an end of season review as well.
Craig munro – Managers Blog….. For those of you who d I have played Shinty all my life since a small boy mostly for my home team Lovat. The last few years of my playing career were spent with Ballachulish which helped me get to know the lads at the club but after sustaining a bad knee injury in 2008/09 I ended my playing days.
After having a few years away I decided that I would like to become involved again, so here we are. I think it's fair to say that the club has struggled a little on and of the park over the last couple of seasons but I hope that we can all change this in the coming season and for many seasons beyond this.
There has been a real buzz about the club since before the New Year and I have been encouraged by the turnout and effort at the training sessions which have been taking place since mid December. We have had as many as 30 turning up which I'm told has not happened since many a year if ever, and the amount of younger players attending is very encouraging. I have been lucky to persuade some 'Balla' players to return to the fold this year. Lorne Brown, Scott Henderson, AJ Macdonald, David Campbell, Michael Slezas, John MacDonald. We are in a bit of a transitional period, but it is fair to say we have probably the strongest squad available in many a year.
Although we have only 1 side competing in the league this season we hope to organise several challenge matches throughout the season for those not playing regularly for the first team and for the younger lads yet to break through giving everyone some game time. This will build up to next season when we intend to enter the second team back into the league, giving our squad two competitive teams playing every saturday. I have been happy with our preseason performances. It has shown we not only have a large squad but also strength in depth. I hope we can continue this form through the season and with a bit of luck get some silverware back in the village. Training every Tuesday & Thursday 7pm at Kinlochleven all season pitch.
JUNIOR TEAM – CUPS WON….. The future of Ballachulish Shinty Club is looking good.
We have three successful primary school teams competing at three different levels-P3&Under, P5&Under and P7&Under. They compete in the Nevis Centre, Fort William every Friday, with the level rotating each week. This guarantees regular competition through the winter months against all the other teams from Lochaber. They also have an action packed fixture list ahead of them this year with six a side tournaments throughout the country.
The coaches Malcom Grant, Philip Maclean and Steven MacKenzie would welcome any form of support from supporters and parents, especially with traveling to away tournaments. Isabel Wilson is this seasons child protection officer, she can be contacted at  l.wilson80@btinternet.com
Primary School Training every Tuesday(except school holidays) P3-Under 6pm Till 7pm. P4-P7 7pm Till 8pm. At the Ballachulish Village Hall (Until Easter Holidays then the Jubilee Park).
Club Sponsors
Ballachulish Shinty Club would like to extend their thanks to our existing key club sponsors K.S Refrigeration (Away trip fuel, merchandise procurement and much more), The Laroch Bar (post match meals and first team strips and more), & Lochside Garage (mini bus maintenance and much more).  Thanks are due also to David & Marylin McGregor and Maria & James MacDonald at the Onich Hotel who very kindly contribute to support our youth shinty strips each year.
You or your business can sponsor a match for £50. For your money you or your company will be mentioned in all match reports and publicity and posters. Your sponsorship will go towards the costs of the referee and match balls for home games and away fixtures your sponsorship will go towards travelling costs.
Photographic Competion – Every month we invite everyone to submit their photos of Match day activities on and off the pitch to quote@oxoxdesignandevents.co.uk, These photos will then be uploaded to the Facebook page, in a monthly album that can be viewed, then voted. The winners being guaranteed a place on the Calendar.  The remaining months in the calendar not filled by winners will be chosen by a selected panel. First Prize £75, Second £25 which will be put to a vote on the clubs facebook page.
Club Finances – The club finances are on an even keel with thanks due to our treasurer Ganes Dunlop and Trisha Whyte who audits the accounts for us independently. As you can see from the running costs below, it take a considerable amount of funds to maintain the shinty club. With ever increasing travelling costs and the prospect of fielding two teams next season.
We will be initiating several fundraising ideas for the whole community to get involved in. These include a Photographic Competition, Minibus Pull, End of Season Club Dinner Dance and many more ideas to look out for, you can keep up to date with these on our Facebook Page and Website, we will also put up posters around the local area.