Listen to our quarry stories
ist ri ar sgeulachdan mun chuaraidh
No visit to the west coast of Scotland is complete without an exploration of Ballachulish Slate Quarry.  Download our unique and free Ballachulish Quarry Stories app now!
You can then either enjoy our quarry stories in advance of your visit or (and we recommend this!) hear the stories as you explore the quarry itself.
Every heritage trail panel you find within the quarry has its own complementary app track: just match up the pictures, it's easy!
You can also connect to wifi and download the app in the friendly Quarry Centre Café nearby.  Your device will not need to connect to wifi again once you have downloaded the app and it is easy to delete after use if you wish.  We would value your feedback on http://www.facebook.com/BallachulishSlateQuarry too!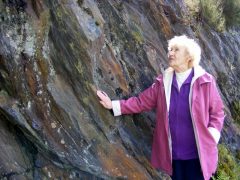 Marie Campbell, born within earshot of the quarry, remembers its noisy industrial past
Our unique app showcases the memories and knowledge of local people, many of whom are descended from quarrier families.  We are delighted to share our precious stories of the quarry and village with you and hope that the app will bring many more visitors to enjoy this unique location which combines fascinating industrial heritage with natural beauty.
Quarry for slate began in Ballachulish in 1694 and production peaked in 1875 when 587 men were employed and 26 million slates sent all over the world.  The quarry has not been active since the 1960s.
This app was commissioned by Ballachulish Community Council and developed as part of a new and innovative range of interpretation connected with the restoration of the famous Ballachulish Slate Arch, the last remaining inclined plane in Scotland, in 2017.  It was funded by The Heritage Lottery Fund, Historic Environment Scotland and the Highland Council.